About Melanie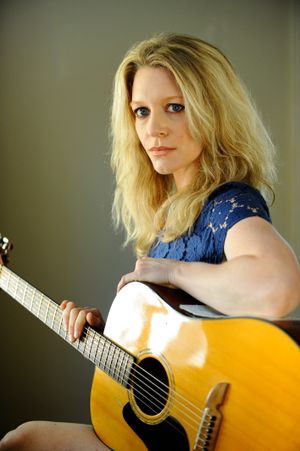 Melanie Devaney is a musician on the move.  Perhaps growing up in a town of 1,600 people in rural Iowa has something to do with her wanderlust, which has found her performing her songs on both coasts of the United States of America, as well as points in between and as far as Europe.  Classically trained in piano from the age of four, Devaney holds a degree in Creative Writing. She hoped to become a novelist, but the typical story of a bad breakup post-college found her writing songs as a form of therapy.  Once she discovered that she could make take her music on the road and share her songs with the world, she filled the gas tank and kept the wheels turning.
Devaney performs approximately 100 dates a year, both as a solo artist and with her trio. While she initially embarked on a career as a folk singer-songwriter, recent years have found her writing in a more pop and soul style reminiscent of great music from the 1960s and 1970s, but with a modern twist. These days she writes less about her own life and more about universal themes like love, loss, and personal triumph.
Some of Devaney's notable performances include The Red Gorilla Music Festival in Austin, TX, the Tucson Folk Festival, the Nowoodstock Festival in Ten Sleep, Wyoming and the Black Hill Motorcycle Rally in Sturgis, South Dakota, as well as the Kimball Arts Festival in Park City, Utah; the Julian Music Festival (Julian, California) and Groovefest (in Cedar City, Utah). Devaney was also listed in Music Connection magazine's Top 100 Unsigned Artists to look for in 2011. Devaney tours throughout the United States, with a heavy concentration of shows in the West and Midwest.
 
Devaney's most recent album, "Single Subject Notebook" is the third such independent release.  "Single Subject Notebook" was produced by Grammy-nominated Jamie Candiloro (R.E.M/Willie Nelson/The Eagles/Ryan Adams/ Ed Kowalczyk)."

George Varga of the San Diego Union Times as described her as an "artist whose unaffected music is delivered with a welcome absence of fuss."